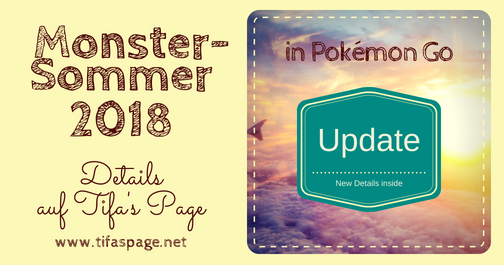 Updates
Liebe Trainer,
es wurden neue Details zum Arktos-Tag morgen (Ultra-Bonus 07/07/2018) in Pokémon Go und dem Safari-Event in Yokosuka (Japan) (Event: 01. + 02.09.2018 bzw. 29.08.-02.09.2018 Safari-Zone) veröffentlicht!
Alles Wichtige könnt ihr natürlich in meinem ursprünglichen Post über den Monster-Sommer 2018 finden, denn dort habe ich es gerade ergänzt.
Neuigkeiten zum zweiten Jubiläum von Pokémon Go
Vom 06.07., 22.00 Uhr, bis zum 31.07.2018, 22.00 Uhr, findet ihr vermehrt sommerlich cool gekleidete Pikachus und Pichus.
Wenn ihr die Pikachu-Fan Medaille auf Gold habt, könnt ihr außerdem neue Kleidung im In-Game-Shop erwerben.
In naher Zukunft können wir dem nächsten mysteriösen Pokémon nach Mew, Celebi, in der Spezialforschung begegnen!
Schiggy mit Sonnenbrille
Wenn ihr am 08.07.2018, 11.00 – 14.00 Uhr, (während des Community Days) Feldforschungen abschließt, erhaltet ihr die Chance auf ein Schiggy mit Sonnenbrille!
Attention, Trainers: if you complete Field Research tasks during Community Day, you may have a chance to encounter Squirtle sporting sunglasses. 🕶️ Good luck! pic.twitter.com/hacoIvzOCD

— Pokémon GO (@PokemonGoApp) 2. Juli 2018
Habt viel Spaß!
---