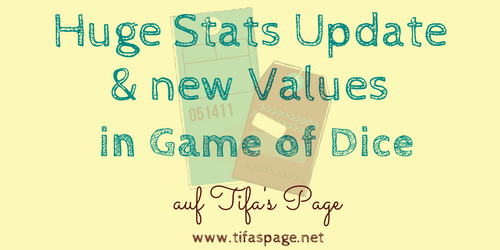 Changes
In the update of 26th April 2018 some of the characters in Game of Dice, starring Hong Kong Alice, got the chance to evolve into 6 Star and 6 Star Plus characters, allowing them to reach level 25. This also changed their values which I added to the table – I also updated their icons.
I noticed that the value for Toll on Cities has been reduced by 10 for many characters, starting with Rockstar Rica (not Plus) and older.
Boost your Chars
The following known characters can be upgraded:
– Hong Kong Alice
– Unicorn Sophia & Unicorn Sophia Plus
– Champion Ion
– Archaelogist Sharon & Archaeologist Sharon Plus
– Gray & Gray Plus
– Reapercy & Reapercy Plus
They received up to two special bonusses but still can only hold 6 values in total.
How to upgrade
To get your (qualified) character from 5 Stars Diamond (level 20 limit) to 6 Stars (level 25 limit), you will need to go to Enhancement / Upgrade in the Character section.
Choose the character and tap Character Upgrade. Now you either need an Upgrade Star (each character has their own) or use 1.500 Topaz.
This will transform a 5 Star Diamond character into 6 Star and 5 Star Diamond Plus into 6 Star Plus.
Special Characters are gone
The following characters have been removed from the character collection in game:

– Mai Shiranui
– Athena Asamiya
– Iori Yagami
– Kyo Kusanagi
– Hello Kitty
– Cinnamoroll
– Kero Kero Keroppi
– My Melody
– Pom Pom Purin
– Kwang Soo
– Gangnam PSY
– Daddy PSY
They will remain in my list but marked with level n.a.
-> Find the totally revamped table with all characters right here :)