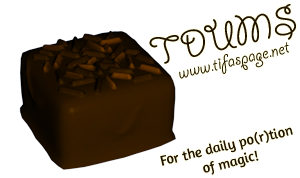 // Magical pets
Since there are so many magical creatures in the world, some of them disguise themselves as cats, dogs and other "normal" pets. Even your pet might be magical! It doesn't help if you're now trying to convince your cat to show you his / her true form though. That's because they cannot control this illusion by themselves; it was created as part of the continuous evolution to save the lives of these animals.
In earlier times, this wasn't needed that much because the news didn't spread as fast as nowadays. If someone posted it on their profile somewhere today, the next day some organization would try kidnapping the pet to find out what it is!
That's why the only solution to seeing what pets truly are is using the known spell to your eyes in order to look through the illusionary layer. Don't be disappointed if your pet really is a "normal" cat though!