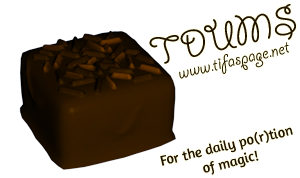 Back home Crumble told the others what his acquaintance had said. There was a heated discussion and as a first reaction nobody wanted to have anything to do with the Black Raven. Bunny Clemens even squeaked from upset. Unfortunately, they weren't able to find any other solution either and there was a grim atmosphere in the room.
They couldn't reach the Library of Magic and while Crumble had been away, Stella had talked to Mira but she didn't find anything about this person. It seemed that they were the only people to have made the acquaintance of this woman and that felt rather uneasy.
"I know her name", Crumble suddenly proclaimed. Everyone was curious and the cat continued, "in her bag there were some documents as well and I believe that the addressed person should be her. It's Amanda Bernars."
Now this didn't sound like the name of a super evil person or typical villain. Somehow Stella was disappointed.