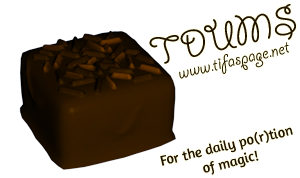 There were also more "funny" incidents since Crumble had fallen into her life: in the supermarket or in the city, she suddenly got the urge to buy things she usually wouldn't even have looked at! These things later kind of "vanished" at home, only to be found in Crumble's sleeping basket after some time.
Also, she more often seemed to find exactly what she was looking for in her magic books! When she came back to read after for example reading or watching TV, the books were open right at the page where the spell she needed was written down.
On top of that, even her magic strength seemed to have improved a lot as she noticed while practicing.
Crumble always sat somewhere looking innocent, almost like a little angel.