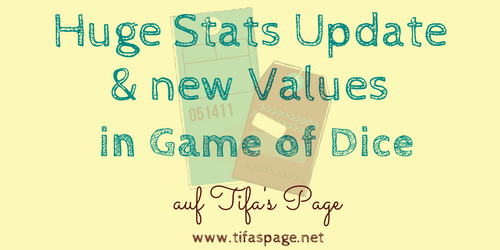 The new Rank
The last value update (from 5 Stars Diamond to 6 Stars) is not that long ago yet, but with the update of 5th July 2018 the game offers us a new rank for our characters:
6 Stars Gold (Plus).
This also allows them to to reach a new maximum level, 30.
The following characters are available in 6 Stars Gold (Plus) form:

– Cheerleader Liz and Cheerleader Liz Plus (new character)
– Dr. X and Dr. X Plus
– Refia and Refia Plus
– Wintry Mary and Wintry Mary Plus
– Card Queen Black Rose and Card Queen Black Rose Plus
Defense against Skill Cards – watch out!
Most have the new 6 Stars Gold (Plus) characters have got a new skill / value (replacing one of the others – they can still "only" have 6 in total).
Only Wintry Mary (Plus) out of the upgraded ones doesn't have it.
This new skill features a defense against certain skill cards: so far the defense works against
Birthday Party (Card Queen Black Rose (Plus)),
Cool It Ox (Refia(Plus)),
Marionette (Dr. X (Plus)) and
Panda's Greed (Cheer Leader Liz (Plus)).
This defense has got a certain value that increases in the Plus form of the character.
I added all of the new characters with their icons in the complete table here.